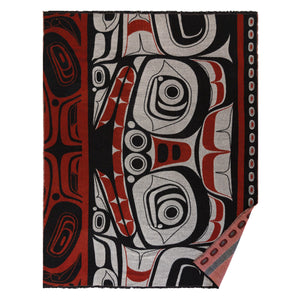 Woven Blanket, Matriarch Bear by Morgan Asoyuf
Morgan Asoyuf, Tsimshian
 "Art is an intimate connection to our history, identity and our community. I am honoured to continue our traditions and to share them." - Artist Statement
Soft and stunning, surround yourself in beautiful art with a Native designed woven blanket. These blankets are made for any home and are suitable for ceremonial gifting.
60" x 80"
100% Extra Soft Acrylic
Warm and lightweight
Packaging includes a beautiful ribbon and product label.
Authentic Indigenous designed and licensed products, with royalties indirectly paid to the artist from every purchase. 
*Note: May not be exactly as shown.