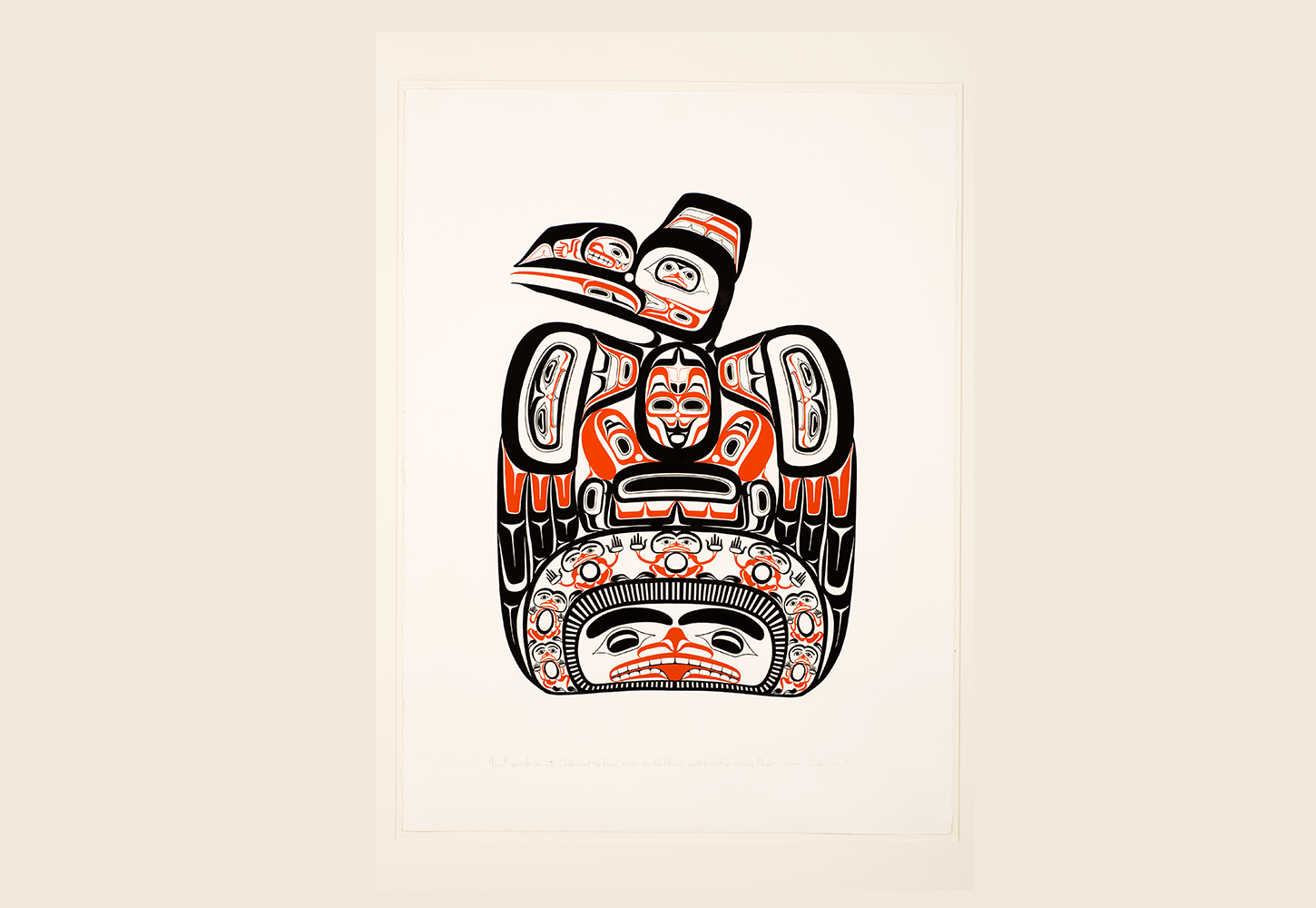 Acknowledgement
We respectfully acknowledge the Musqueam, Squamish, and Tsleil-Waututh, and all Indigenous peoples of the Northwest Coast, on whose traditional and unceded territories we live and work.
Mission
The purpose and mission of the Foundation is to perpetuate, protect, enhance and promote Bill Reid's artistic and cultural legacy in the public interest.
Vision
The Bill Reid Foundation and its Gallery celebrates the vital and diverse Indigenous cultures of the Northwest Coast through the extraordinary work of Bill Reid and the presentation of exceptional contemporary art.
We share Bill Reid's belief that "joy is a well-made object" and celebrate artistic excellence by presenting the work of Bill Reid in the SFU Art Collection and other Northwest Coast artists in our galleries; and by featuring work made by or designed by Northwest Coast artists in our Gallery Shop.
We are guided by Indigenous community members and Indigenous values in all aspects of our organization.
We form lasting partnerships and collaborate to create innovative programs that engage, educate and inspire a deeper understanding of Indigenous cultures and art.
We embrace diversity and build bridges of understanding among cultures.
We respect artistic freedom, Indigenous and other peoples, and the interconnectedness of culture, land, sea and people.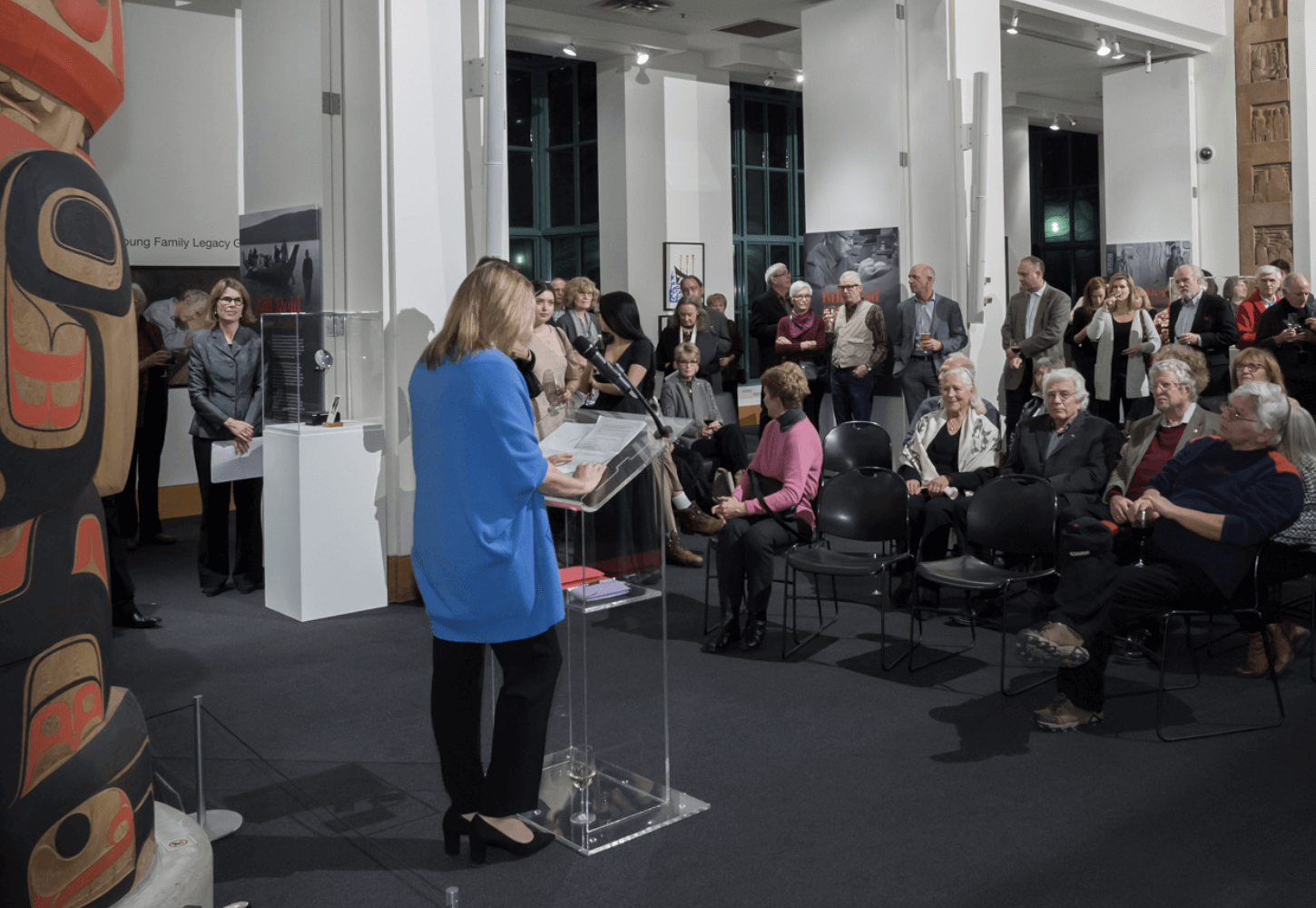 About the Bill Reid Foundation
The Bill Reid Foundation was established in 1999 to honor the legacy of Bill Reid and celebrate the diverse Indigenous cultures of the Northwest Coast. In 2002 Dr. Martine Reid gifted the Bill and Martine Reid Collection to the Bill Reid Foundation with the intent of creating the Bill Reid Gallery. 
The Bill Reid Gallery of Northwest Coast Art opened in 2008 by the Bill Reid Foundation to house the Martine and Bill Reid Collection, and present innovative exhibitions and programs that engage, educate and inspire a deeper understanding of indigenous cultures and art from the Northwest Coast. The operation of the Bill Reid Gallery is the main focus of the Bill Reid Foundation.
The Bill and Martine Reid Collection now belongs to Simon Fraser University, which entered into an enduring partnership with the Bill Reid Gallery of Northwest Coast Art in 2011 as part of its deep commitment to First Nations' Studies.
Join the Bill Reid Foundation Board of Directors
We are actively searching for new members to join our Board. The Bill Reid Foundation and its Gallery celebrate the vital and diverse Indigenous cultures of the Northwest Coast through the extraordinary work of Bill Reid and the presentation of exceptional contemporary art. The Bill Reid Gallery is Canada's only public gallery dedicated to contemporary Indigenous Art of the Northwest Coast. If you would like to express your interest in joining the Board of one of Vancouver's most respected and unique First Nations focused arts organizations, please click here.
Board of Directors
Honorary Chair & Director Emeritus
Alison Blair

Close

Alison Blair has an MBA from Simon Fraser University, Beedie School of Business Executive MBA Program and she is a Chartered Professional Accountant.  She is Associate Vice-President Finance for Simon Fraser University (SFU) and Treasurer of the SFU Foundation.  Alison also sits on the Great Northern Way Board of Directors and Audit and Finance Committee.

 

Previously Alison was Chief Financial Officer and Director Finance and Administrative Services

for the Public Guardian and Trustee of British Columbia and prior to this she served as Director of Financial Services for North Vancouver School District where she was a volunteer member of the Artists for Kids Board of Directors. 

 

Alison has worked in the investment industry for Wood Gundy and for Pension Finance Associates, both in Toronto. She also worked for University of Guelph, managing the administration of Continuing Studies. Alison served as Treasurer and member of the Education Committee for the Certified General Accountants' Association of Ontario, Kitchener-Waterloo Chapter.

Corey Bulpitt

Close

Taakeit Aaya or "Gifted Carver" Haida of the Naikun Raven clan was born in Prince Rupert BC in 1978. He is a great-great grandson of the famed Charles Edenshaw and Louis Collison. Corey graduated from the Langley Fine arts School in 1996. In 2001 he apprenticed under Master Carver Christian White for three years in Haida Gwaii, learning design and wood carving. He is an avid painter, jeweler, wood and argillite carver who enjoys exploring different mediums such as spray paint, which he has used to create large-scale paintings involving urban youth in Vancouver. Corey has carved many totem poles, including a 20' yellow cedar pole for Scouts Canada, a 17' story pole now at Queen Charlotte Lodge, and a 14' mortuary-style memorial, which stands in the Namgis burial ground, Alert Bay, carved in memory of his Haida ancestors who died during the smallpox epidemic inflicted in 1862 and who made their final rest at Bones Bay where Corey erected a large painted cedar panel. He has also carved a pole in New Zealand with Maori Master Lionel Grant and North West Coast carvers Dempsey Bob, Joe David and Christian White. Corey has worked on many other poles under Christian White, Jim Hart, Dwayne Simeon and Beau Dick. He has recently assisted on the 2010 Olympic pole with Klatle Bhi for Petro-Can. Corey has worked beside and learned from many master carvers such as Sharon Hitchcock, Wayne Alfred, Donny Edenshaw, Phil Grey, and Jay Simeon, to name a few. His biggest influences are the old master carvers of the 17th to late 19th century whose skills are left unmatched. Through his study Corey creates functional pieces that can be used in the traditional context of song and dance.

Dr. Heather F. Clarke

Close

Heather is a 3rd generation settler in Canada whose ancestors originated from England and a 1st generation settler in BC. She calls BC home and is grateful for the stewardship of the First Nations peoples in ensuring there are amazing forest and mountain trails to hike, streams and lakes to fish and swim, alpine meadows to draw inspiration from and cultures to explore. Her nursing career gave her many opportunities to learn about First Nations health care traditions, strengths and needs. She has worked with and consulted to many First Nations governments, communities and nurses and is honoured to be given Hummingbird as her symbol by the BC Aboriginal Nurses Association. Heather became involved with the Bill Reid Foundation in 2010 as the Volunteer Coordinator for the Gallery. Shortly after she was asked to join the Board and currently Chairs the Governance Committee. She is passionate about justice, equality and arts and culture issues – believing that they are intricately linked for a better quality of life for all. For these reasons she is also active on the Boards of Vancouver Opera and its Foundation, First United Church Community Mission and Shaughnessy Heights United Church "Reconciliation Matters" team. Heather served as both Chair of the Board of Governance of Vancouver School of Theology, as well as its Chancellor.

Chief Janice George

Close

Chief Janice George graduated from Capilano University, North Vancouver BC, and the Institute of American Indian Arts, Santa Fe, NM, USA.   She feels her education at these schools helped her excel as a teacher, adding to her most important traditional teachings. She is a hereditary chief, trained museum curator and educator. George also co-organized the 1st Canada Northwest Coast Weavers Gathering, with other Squamish Nation Weavers.  George is from a prominent Squamish family and has numerous ceremonial and cultural responsibilities in her community.
Roxanne Hoffman

Close

Roxanne Hoffman was born in Manitoba where her family roots date back to the 1700s.  Although her ancestry is Metis she was unaware of this until later in life which has made her passionate about both supporting and learning about Indigenous culture.  

In the past Roxanne has served as a board member for DAREarts and Forum for Women Entrepreneurs.  She has also been a mentor through various organizations including the Nextstep program at YWCA and Leaders of Tomorrow at the Vancouver Board of Trade.

She is a past Bank of Montreal leader, most recently as Regional Vice President of the BC Financial Planning team.  Over 25 years she worked across many areas of the organization and throughout Canada.

Jane Hungerford

Close

Jane Hungerford is of Gwich'in heritage and is a driven community service member for more than 40 years. Jane has a Bachelor of Education from the University of British Columbia (UBC). She has received numerous 'Special Honours' awards for her community involvement and to name a few: Order of British Columbia 2014 – British Columbia's highest civilian honour and The Queen Elizabeth II Diamond Jubilee Medal 2013 – National award for outstanding community service. Jane has many years of sitting on numerous Boards in the Greater Vancouver area such as: BC Cancer Foundation, BC Cancer Agency, Aboriginal Mother's Centre Society,  Bill Reid Foundation, John M.S. Lecky UBC Boathouse. She's a Founder of Science World and UBC Alumni Past Chair. She was also on the federal boards for Canada Science and Technology Museum Corporation and Canada 's Sports Hall of Fame. Her involvement within the communities in the sectors of fundraising, social services,  health, Aboriginal-focused, education, and community-driven initiatives truly shows Jane's passion and commitment to ensuring a vibrantly healthy community moves forward in the right direction.

David McCullum

Close

David is a settler who first encountered Bill Reid and his art in the mid-80s, when he was working around the corner from Bill's studio on Granville Island. He loved checking in on the progress on what became the Spirit of Haida Gwaii and is now thrilled to be able to support such a progressive and forward-looking gallery and foundation.

Emily and David McCullum use many of the resources of their technology company to support non-profit societies through their Friends of the Community program, and David currently serves as Chair of two community societies and works with many non-profit organizations seeking to transition from an entrepreneurial to a more sustainable mode. He's not an expert in art or culture, but is an avid supporter of the vital roles that both play in healthy societies.

Eric Martin

Close

Eric Martin is a registered Professional Engineer and a graduate of UBC and has been involved in the real estate industry for over 40 years. Prior to joining the LedMac team, Eric was V.P. Development at Bosa Development Corp. for almost 25 years and was responsible for a number of major urban development projects throughout Greater Vancouver and the western U.S. Eric is Chair and President of the Whistler Development Corp., formed in 2004 to build the Whistler Olympic Village for the 2010 Games, and is a Past President of the Urban Development Institute. 

Eric was just awarded the Sovereign's Medal for Volunteers' by Governor General David Johnston.
Arden Mathieson

Close

Arden Mathieson (she/her) is a settler of Scottish and mixed European ancestry born in Amiskwaciwâskahikan (Edmonton) – the traditional meeting place for Cree, Saulteaux, Nakota Sioux, Blackfoot and Métis Peoples. Arden moved to Vancouver to pursue a career in law. She is grateful to live, work and play on unceded traditional territories of the xʷməθkʷəy̓əm (Musqueam), Sḵwx̱wú7mesh (Squamish), and səlilwətaɬ (Tsleil-Waututh) Nations. Arden is developing an expertise in aboriginal, constitutional and environmental litigation. She has a keen interest in the ways in which art can communicate history, laws and indigenous ways of knowing. She is honoured to serve the Bill Reid Foundation in her capacity as a Board Member.

Gail Murray

Close

Gail Murray is the President and Founder of Vero Management Inc. She has served on many Boards including as a Director of the Community Futures Development Corporation of Central Vancouver Island. She was also a Founding Director of the Haisla Business Development Corporation. Gail held a two-year appointment as Co-Chair of the BC Aboriginal Workforce Strategy Steering Committee. She has served for over a decade as a Director and was recently appointed as Finance Committee Chair on the Bill Reid Foundation and Bill Reid Trust. She is also an active member in her local Metis community.

Aleen Sparrow

Close

Aleen Sparrow is from the Musqueam village located in what is now known as Vancouver. Her father's mother was half Haida and half German tying her to the village of Old Massett. Daughter of Debra Sparrow, renowned Musqueam weaver and artist, Aleen continues her mother's legacy in textiles arts. She has been weaving for a number of years and is currently enrolled at Blanche MacDonald's fashion design program in hopes of sharing her vision of Salish fashion.  Her passion for the industry began when she modelled for Vancouver Indigenous Fashion week in 2019 and eventually signed with Supernaturals Modelling Agency in 2021, the first Indigenous owned and operated modelling agency in the country. Aleen has pulled on a canoe with the Musqueam Canoe Club for 3 years, the first time Musqueam has put canoes in the water in 40 years.  She has displayed her weavings in the Bill Reid Art Gallery and the Leonard R. Fuller Gallery in Washington. Aleen works for a midsize law firm in downtown Vancouver and finds the perfect balance between corporate and cultural life. 

Lisa Hageman Yahgujanaas

Close

Lisa Hageman Yahgulanaas, Kuuyas 7waahlal Gidaak (Precious Potlatch Woman), is an award winning Haida artist, specializing in Yelth Koo/Raven's Tail Weaving. Yelth Koo/Raven's Tail Weaving is one of the oldest forms of Haida textile creation.  It is a finger weaving technique that is gravity weighted. This means that for the weave to be precise and squared the weaver must have a continuous care for tension and consistency in twisting the warp and weft together.  The weaving is a long, intimate, and meditative process, that has its own rhythm.

 

Lisa has previously been on the Board of Directors for the Haida Gwaii Museum at Kay Linagaay in Skidegate, Haida Gwaii. 

 

"I weave because I could not do otherwise. Weaving dances through my dreams at night."
Susan Wood (Haida)

Close

Bio coming soon
Martine Reid - Honourary Chair

Martine Reid - Honourary Chair

Close

Martine Reid is an author and independent curator in the field of Northwest Coast art. She was born and educated in France, where she graduated from the Ecole des Hautes Etudes en Sciences Sociales (Paris). In 1975, she moved to Vancouver to pursue her studies, earning her doctorate in anthropology from UBC. Her collaboration with the Kwakwaka'wakw people resulted in the award-winning as-told-to biography, Paddling to Where I Stand: Agnes Alfred, Qwiqwasutinuxw Noble Woman, (UBC Press, 2004). Martine was married to the late Haida artist Bill Reid for nearly half of his creative life and was instrumental in the creation of The Bill Reid Gallery of Northwest Coast Art in Vancouver (2008), for which she was director of content and curator (2010-2013). Her passion for the arts of the Northwest Coast, past and present, led her to curate many national and international exhibitions, authoring numerous articles and books on Northwest Coast aesthetic anthropology. Martine is a member of the Catalogue Raisonné Scholars Association and is currently compiling Bill Reid's Catalogue Raisonne.

Honourable Bryan Williams - Director Emeritus

Honourable Bryan Williams - Director Emeritus

Close

The Honourable Bryan Williams was a Partner and Senior Counsel at Swinton and Company for 35 years before serving as the Chief Justice of the Supreme Court of British Columbia 1996 – 2000. He was awarded an Honorary Doctorate of Laws from the University of Victoria, and is the recipient of a 125th Confederation of Canada Medal of Honour.

David Gillanders - Director Emeritus

David Gillanders - Director Emeritus

Close

David Gillanders has practiced law for over forty years and has earned regional, national and international respect and recognition for this expertise, professionalism and integrity. Throughout his career he has been called upon to give leadership to the creation or the critical advancement of important health, community, educational, and cultural enterprises in British Columbia. These undertakings include: the Burnaby Mountain Trust, the Bill Reid Foundation, the Vancouver Opera Association and the Opera Foundation, the Children's Hospital, the Children's Family House of BC, the Pearson Hospital Pool Society, and many other educational and cultural community organizations.

Frank Anfield - Director Emeritus

Frank Anfield - Director Emeritus

Close
Herb Auerbach - Director Emeritus

Herb Auerbach - Director Emeritus

Close

Herb Auerbach teaches a course on real estate development at Simon Fraser University, Vancouver. His lengthy career as an architect and real estate development consultant included work for I.M. Pei & Associates in New York City and Concordia Estates in Montreal. He has abiding interests in history, travel, and visual arts.

Maurice Fellis - Director Emeritus

Maurice Fellis - Director Emeritus

Close

Maurice Fellis emigrated to Canada in 1956 and joined Westward Shipping Ltd. Vancouver where he served in various executive capacities until he retired as CEO in 1966. He is the Past Chairman of the BC Maritime Employers Association, Past President of the Chamber of Shipping of BC, Past President of the Vancouver Merchants Exchange, and recipient of an Award of Excellence from the National Transportation B.C Division.

Chief 7idansuu James Hart - Honourary Patron

Chief 7idansuu James Hart - Honourary Patron

Close

An accomplished Haida artist and master carver, James Hart has made significant contributions to Northwest Coast art. His jewelry, prints, traditional architecture, totem poles and sculptures, which reflect Haida style, stories and culture, are displayed and enjoyed around the world. His accomplishments have been recognized with the Order of B.C., an honorary doctorate from the Emily Carr Institute of Art + Design, a Queen Elizabeth II Diamond Jubilee Medal and membership in the Royal Canadian Academy of Arts. Hart holds the hereditary title of Chief 7idansuu (pronounced "ee-dan-soo") of the Haida Nation Saangga.ahl Staastas Eagle Clan.
Policies
Ends
Limitations
Process
Relations
Special Terms of Reference
Bylaws | Constitution