Explore the diverse Indigenous cultures of the Northwest Coast
Welcome to the Gallery
Open Wednesday to Sunday, from 11 am to 5 pm
Last Thursday of Each Month —
Seniors Day-Regular Admission apply
October 25, 2023 - January 28, 2024
A season of "Honouring Our Grandmothers' Healing Journey"
April 26, 2023 to January 14, 2024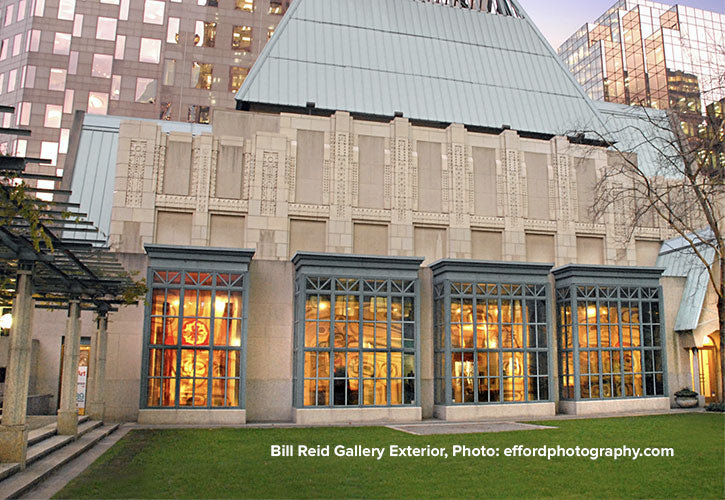 ABOUT
The Bill Reid Gallery
Welcome to the Bill Reid Gallery, a unique destination that celebrates the extraordinary diversity of contemporary Indigenous Northwest Coast Art. As the only public Gallery in Canada dedicated to the Northwest Coast, we invite you to immerse yourself in a vibrant cultural experience. 
Established in 2008 by the Bill Reid Foundation, our Gallery stands as a tribute to the legendary Haida master artist, Bill Reid (1920 - 1998), and the multitude of living traditions that flourish along the Northwest Coast. We are committed to celebrating his remarkable legacy and fostering meaningful connections among diverse communities, including Indigenous and settler populations. 
In addition to an esteemed collection of Bill Reid masterworks, we curate a series of dynamic exhibitions and learning programs that showcase the remarkable work of contemporary Indigenous artists. By promoting a deeper understanding and appreciation of Indigenous cultures and values, we strive to create an inclusive space where all individuals can connect, learn, and grow. 
Join us to explore the extraordinary world of contemporary Indigenous Northwest Coast Art at the Bill Reid Gallery.  
Learn more
Shop
Inspired by our exhibitions and the works of Bill Reid, our offerings range from works of authentic Indigenous art to merchandise and art books. The Gallery Shop supports contemporary Northwest Coast Indigenous artists. Proceeds from all purchases support Bill Reid Gallery artistic and educational programs.
Shop Now
Programs
Learn more about Indigenous cultures of the Northwest Coast through our Gallery programs. We offer a dynamic range of events for people of all ages including artist talks, hands-on workshops, storytelling, panel discussions and more.
VIEW PROGRAMS
News
Find artist interviews, Gallery features, behind the scenes updates, and community partner news on our blog. 
VIEW news
"What an inspiring collection it is. The displays are well designed for the space, very informative, and very moving. The craftsmanship and designs are superb."
Debra R
"The staff is well-informed and helpful, and the small gift shop is a treasure in itself, and worth a visit to the gallery all by itself!"
Patsy S, Trip Advisor
"Small, intimate museum with excellent examples of Bill Reid's work in jewelry, graphic art, sculpting, and carving. The special exhibits highlighting local Indigenous artists are well-selected and presented with video interviews and insights."
Bruce R