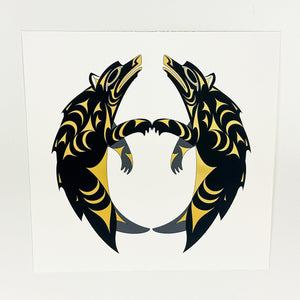 Tl'itleqoSpá:th (Underwater Black Bear), Limited Edition Print in Gold
Carrielynn Victor, Stó:lō
Regular price
CAD
$939.00
Tl'itleqo Spá:th (Underwater Black Bear), 2023
Bill Reid Gallery 15th Anniversary Gold Edition

Bill Reid was one of the first to combine Northwest Coast forms and art with print making. Inspired by his early works, peering into the lives of Haida natural and otherworldly beings, I looked to Halqemeylem language and story for otherworldly beings in my own backyard and found myself face to face with the Stl'áleqem. Translations of this upriver Halqemeylem term do not convey the essence of these spiritually potent beings, who occupy the "real" and the "spirit" world simultaneously.
There are 4 Stl'áleqem. Tl'itleqo Spá:th (Underwater Black Bear) is one of them. They
inhabit significant places in the rich, storied and spiritual landscape of the Xwelmexw
people. For Tl'itleqo Spá:th this is the reach of the Fraser River.

Specific Stó:lō activities lead us to these places, which we approach with appropriate
protocol, lest we risk dangerous encounters with these otherworldly beings.
Their spiritual potency (and the taboo that might surround them) is so intrinsic to our
collective stories, that the Stl'áleqem represent powerful values guiding each member of
our community individually. As such, Tl'itleqo Spá:th (Underwater Black Bear) is a deeply
personal piece, one that carries my story. The symmetrical mirroring reflects Underwater
Black Bear's existence in the "human" and "spiritual" world, rendering its Halqemeylem
essence.
Silkscreen Print, Edition of 15
20 inches x 20 inches

Unframed
*Each print it signed and numbered by the artist and includes a one page artist statment.