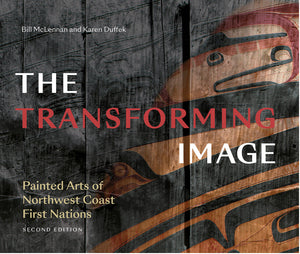 The Transforming Image, 2nd Edition: Painted Arts of Northwest Coast First Nations
Bill McLellan and Karen Duffek
This would be the second edition of 
this publication, 20 years later. A wonderful and insightful book for researchers, artists and everyone in between. This coffee table style hardcover edition makes for a great addition to any decor. 
With hundreds of photos of historical Indigenous artworks from collections around the world—are the extraordinary result of the Museum of Anthropology's Image Recovery Project. Infrared photography was used to reveal the paintings hidden by age. 
'A new preface by Karen Duffek speaks to what the book has helped set in motion, and how First Nations artists and scholars today are taking this art forward in new and compelling directions.' - Figure.1
Hardcover
10.75 × 9 inches
312 pages
Published October 2022