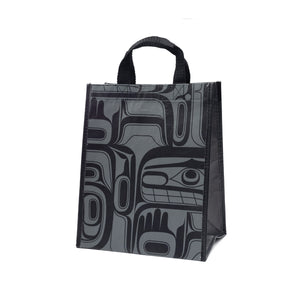 Tradition, Small Eco-Bag
Ryan Cranmer, Kwakwaka'wakw
Perfect for taking to the mall or grocery store.
Bag made from recycled plastic bottles. 95% recycled polyester, 5% polypropylene.
Measures: 9.5" W x 11.75" H x 7" D

 "Our art is a gift handed down through our ancestors. Art is an essential part of our culture; it tells our stories and reminds us who we are." Artist Statement
Authentic Indigenous designed and licensed products, with royalties paid to the artist from every purchase.
*item may not be exactly as shown