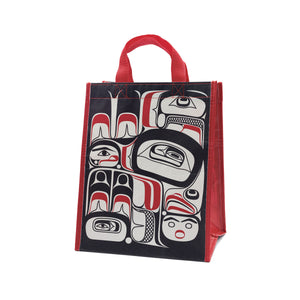 Eagle Vision, Small Eco-Bag
Allan Weir, Haida
Perfect for taking to the mall or grocery store.
Bag made from recycled plastic bottles. 95% recycled polyester, 5% polypropylene.
Measures: 9.5" W x 11.75" H x 7" D

 "I am honoured to share my culture and appreciate when people show their respect but using products that feature my designs." - Artist Statement
Authentic Indigenous designed and licensed products, with royalties paid to the artist from every purchase.
*item may not be exactly as shown