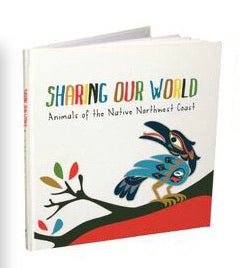 Sharing our World: Animals of the Northwest Coast, Hardcover
Native Northwest
Learn about the significance of animals from the Northwest Coast from Coast Salish artists. Featuring the work of 13 contributing artists.
Soy based ink and water based protective coating. Made from paper sourced from sustainable forests. Gloss artpages.

28 pages
Measures: 8.5" x 8.5"
Made in Canada
Authentic Indigenous designed and licensed products, with royalties paid to the artist from every purchase.