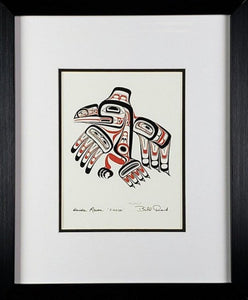 Xuuya - Haida Raven: Black and Red Series, Framed Art Card
Bill Reid, Haida
Xuuya - Haida Raven, 1972. At the heart of the Haida intellectual world is the Raven, the culture hero who is responsible for dispelling darkness and discovering mankind. Encompassing all of the classical elements of the Haida art tradition, Bill Reid Raven is perfectly balanced within its asymmetric design. The sweeping curvilinear lines flow with fluid grace giving the bird continuous movement and a vitality befitting its place in oral histories. 
Building upon the broad range of his expression, Bill Reid translated his original designs of animal crests into limited edition Serigraph, Lithograph, Woodcut prints and drawings. This is a reproduction of one of those limited edition Serigraphs.
Black and Red Series: Double Matted Framed Art Card (Matte: 2 3/4")
Frame: 12"w x 14 1/2"h x 7/8"d (30cm x 36.5cm x 2.2cm)
Printed and made in Canada.
This beautiful framed art card comes framed, includes a biography that is attached to the back and is ready to hang.
*Please note: While every effort will be made to ship this item without damage, there is always a risk in shipping glass.
*These are also available in a matted version: The matted art cards are lightweight, easy to ship and ready to frame.