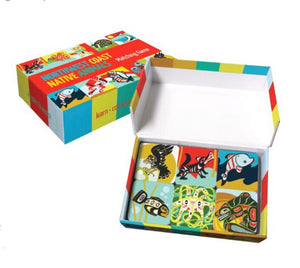 Northwest Coast NProducts Northwest Coast Native Animals Matching Game Success Activeative Animals Matching Game
Various Artists
This matching game can be played with children of all ages! Enjoy stunning visuals created by various Indigenous artists while you get to know the animals of the Northwest Coast. 
To play you can simply place the tiles on a flat surface, image side down, in a grid pattern. The first player turns up two tiles; if they match the player collects the tiles and takes another turn. If they do not match the tiles are returned, image side down, and the next player takes a turn. Play continues until all the matches have been made; the player with the most matches wins!
Soy based inks and non-toxic coatings. paper sourced from sustainable forests. 
Artwork by Various Artists. Includes 48 tiles.
Box measures 7 3/4" x 5" x 2"