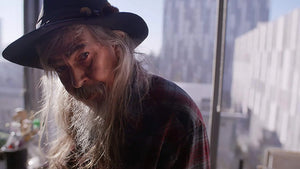 Maker of Monsters: The Extraordinary Life of Beau Dick (Documentary Film)
Natalie Boll & LaTiesha Fazakas
Maker of Monsters is a portrait of a Canadian art legend, Beau Dick He was an enigmatic carver from a small remote village on the Northwest Coast of British Columbia.
Beau Dick's remarkable masks have been celebrated across the global art scene as vibrant expressions of West Coast Indigenous culture, and a sophisticated crossover into the contemporary art world. Beau had an unprecedented ability to tap into the collective memory of his people and breathe new life in to age old traditions.
Maker of monsters strives to unearth the factors that made Beau who he was - his deep connection to identity, family, and community, his struggle with addiction - and like a carver chipping away at a block of wood, his story brings truth and understanding out of the woodwork, it illuminates a man whose art and life transcend expectations and boundaries.
DVD format, 2017
Directors, Natalie Boll and LaTeisha Fazakas
Runtime - 1 hour 32 minutes
Color
Dolby Digital, Stereo
Aspect Ration 16:9 HD