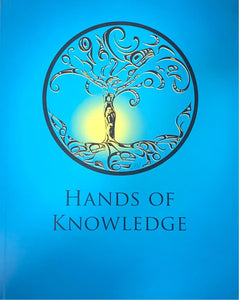 Hands of Knowledge, Exhibition Catalogue
Joanne Finley, Ts'msyen
"I believe strong women come from the land and what they are taught by their parents and grandparents… These strong women are the treasures of our Nations and are helping to lift their people up through their work." – Betty Sampson, Ts'msyen Elder and Artist
Hands of Knowledge is a collaborative exhibition featuring six contemporary Indigenous women artists, developed by Ts'msyen curator Joanne Finlay.
Women can be powerful matriarchs, important knowledge keepers, cultural connectors, and the foundation of the family. Each artist celebrates traditional knowledge through contemporary works that explore sight, time, supernatural energy and spirituality. Many are connected to personal and family history and stories passed down to them as part of their lineage. Using insight, awareness and reflection, the artists look to the sights and times of their mothers, grandmothers and great-grandmothers, to view how women have influenced their work.
Exhibition dates: May 15 - September 26, 2021
Six contemporary Indigenous women artists featured in this exhibition and catalogue:
Pearl Innis (Ts'msyen/Nisga'a) presents the art of Chilkat weaving through traditional regalia - an apron, potlatch bag and head piece.
Kelli Clifton (Ts'msyen) creates a bold blend of traditional and contemporary through painting and carving. She was born and raised in Prince Rupert and is Ts'msyen from Hartley Bay.
Dale Marie Campbell (Tahltan/Tlingit) is a highly skilled wood carver who has helped lead the way for women carvers. Campbell is from the Wolf Clan of the Tahltan Nation, with some Tlingit ancestry.
Marie Oldfield (Ts'msyen/Haida) celebrates her Ts'msyen identity with a double-sided Raven's Tail robe, an ancient and complex traditional weaving technique. Her work demonstrates the importance of passing knowledge through art.
Arlene Ness (Gitxsan) is a multimedia artist who translates traditional stories into painting and carving to illustrate her Gitxsan ancestry.
Patricia June Vickers (Ts'msyen/Heiltsuk) uses painting to express her healing journey, share sacred stories, and to depict spiritual transformation and awakening.
40 Pages
Soft Cover Catalogue