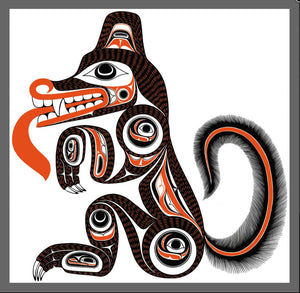 Godji - Haida Wolf: Centennial Series, Matted Art Card
Bill Reid, Haida
Godji - Haida Wolf, 1979. Building upon the broad range of his expression, Bill Reid translated his original designs of animal crests into limited editions silkscreen or woodcut prints and drawings. This is a reproduction of one of those limited edition silkscreened prints.
Centennial Series: Double Matted Art Card (2 3/4" Matte)
Dimensions: 11" x 14" (28 cm x 36 cm)
Printed and made in Canada.
This beautiful matted art card is lightweight, easy to ship and ready to frame. Each print includes a biography that is attached to the back.
*These are also available in a framed version: The Framed art cards are ready to hang.