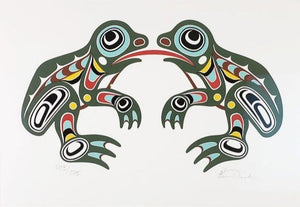 Frogs, Limited Edition Print
Beau Dick, Kwakwaka'wakw
Regular price
CAD
$300.00
Beau Dick (Walas Gwa'yam), acclaimed as one of the Northwest Coast's most versatile and talented carvers, was born in Alert Bay, BC where he lived and worked. Reaching out beyond the confines of his own Kwakwaka'wakw culture, Dick explored new formats and techniques in his work, including painting and drawing. For more than three decades, he actively perpetuated the ceremonial traditions of his people. He began carving at an early age, studying under his father Benjamin Dick, his grandfather James Dick, and later renowned artists such as Henry Hunt and Doug Cranmer. Beau also worked alongside master carvers Robert Davidson, Tony Hunt, and the late Bill Reid. 
A carver who took much of his inspiration and technique from traditional Kwakwaka'wakw art, Beau's work has been particularly noted for its embrace of contemporary influences, often incorporating European and Asian styles into his creations. His masks in particular have been lauded for their rough yet realistic presentation, representing a piece that is both austere yet incredibly life-like.
As the artist himself has put it: "My style is sometimes referred to as 'Potlatch Style' as it comes from a tradition of ceremony which requires many masks to be made in a short period of time. It takes many years of practice and an understanding of balance in order to create a work that appears finished in a natural and instinctive manner, without seeming overthought." 
Due to the particularity of his work, Beau's art has gained steady recognition and acclaim in both Canada and the international art scene over the years, with a carving commissioned for Vancouver's Expo '86 proving to be a large stepping-stone in his career. In 1998, Beau was one of only seven Canadian artists to attend the reopening of Canada House in London, England. The following decade saw many of his pieces featured in a variety of exhibitions that took his work to galleries and museums across Canada, the US and Europe. 2010 saw four of Beau's major works brought to Sydney, Australia to be displayed in one of the largest and most prestigious exhibitions in the world, the Sydney Biennale. Dick's work has been exhibited most recently at Documenta 14, Athens (2017).
The story of Beau's life and art has been developed into a feature-length documentary film entitled Maker of Monsters, which made its world premiere at the 2017 Vancouver International Film Festival. From 2013 to his passing in 2017, Dick was Artist-in-Residence at the UBC Department of Art History, Visual Art and Theory, with his studio in the Audain Art Centre.
Serigraph, Edition of 275
Unframed
22" x 15"
*Each print it signed and numbered by the artist and includes a one page biography.