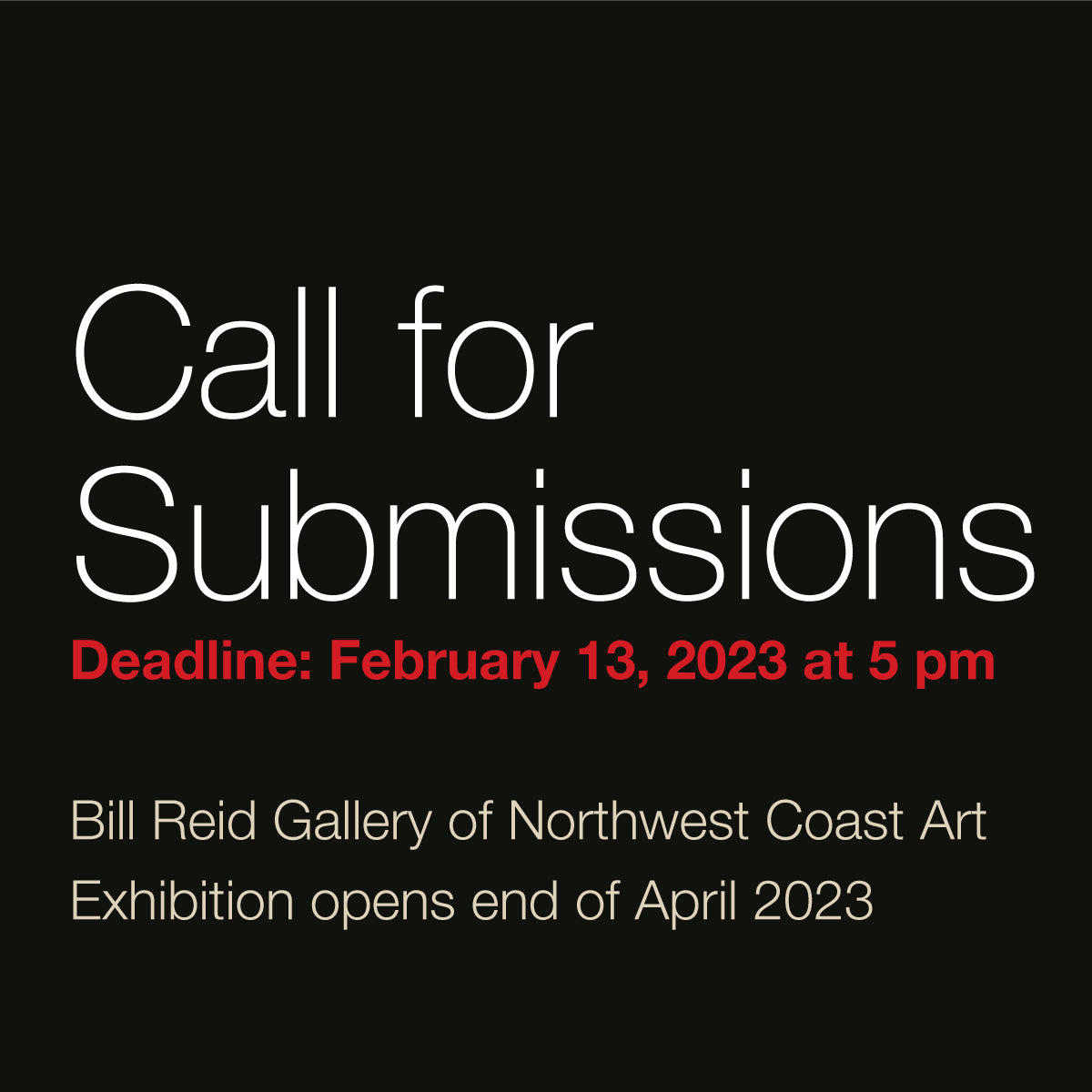 Call for Submissions
Bill Reid Gallery of Northwest Coast Art - Call for Submissions
Deadline: February 13, 2023 at 5 pm 
Exhibition opens end of April 2023 
The Bill Reid Gallery of Northwest Coast Art in Vancouver, BC is currently seeking submissions in all mediums from contemporary Indigenous artists from the Northwest Coast region, including BC, Alaska and Washington State. This group exhibition reflects on and questions Bill Reid's influence on contemporary art and artists today. Our goal is to bring together the permanent collections of the Bill Reid Gallery with some of the most exciting contemporary art being produced on the Northwest Coast today.  
Exhibition Theme:  Over 50 years ago, Bill Reid wrote an eloquent essay appreciating Northwest Coast art of the past, but also recognizing that it was a look towards the future. Rather than dusty remnants, he stated that "These were objects of bright pride, to be admired in the newness of their crisply carved lines, the powerful flow of sure elegant curves and recesses - yes, and in the brightness of fresh paint. They told the people of the completeness of their culture, the continuing lineages of the great families, their closeness to the magic world of universal myth and legend." 
25 years after Bill Reid's death, this exhibition invites artists to ponder and critique the question: "How does Bill Reid's work continue to influence contemporary Northwest Coast art being produced today?"  As a master innovator, Bill Reid helped push the Northwest Coast art form in new directions with new materials.  
We are accepting submissions related to this theme in all mediums, with a special interest in emerging to mid-career artists working in new and innovative ways. 
About Bill Reid and the Bill Reid Gallery 
Bill Reid (1920-1998) was an acclaimed master goldsmith, carver, sculptor, writer, broadcaster, mentor and community activist. Reid was born in Victoria, BC to a Haida mother and an American father with Scottish German background, and only began exploring his Haida roots at the age of 23. This journey of discovery lasted a lifetime and shaped Reid's artistic career.  
Reid became a pivotal force in building bridges between Indigenous people and other peoples. Through his mother, he was a member of the Raven clan from T'aanuu with the wolf as one of his family crests. Raven is known as a mischievous trickster, who also plays an important part in transforming the world. Many of these traits matched Bill Reid's personality.  
The Bill Reid Gallery of Northwest Coast Art was created in 2008 to honour his legacy and celebrate the diverse Indigenous cultures of the Northwest Coast. Bill Reid infused Haida traditions with his own modernist aesthetic to create both exquisitely small as well as monumental work that captured the public's imagination and introduced a timeless vocabulary to the modern world. 
Learn more information about Bill Reid and his career.
Submission Process 
If your work is chosen, we will work alongside you to facilitate your needs for the exhibit. All artists will receive an artist fee based on CARFAC rates, and there is some budget for supplies.  
Please include the following in your submission: 
Name

 

Bio (250 words)

 

Short written or video statement (150 words) reflecting on how your work connects to the theme of the exhibition

 
CV (3 pages max.)

 

Proposed work to be exhibited (new or existing)

 

Technical requirements (please be specific)

 

Visual Support Material and Support Material List (10 images max.)

 
Images should be labeled numerically with the artist's name (01_name.jpg, 02_name.jpg, etc.). Your Support Material List should include title of work, date created, medium, and dimensions. Video documentation should be uploaded to a site such as Youtube or Vimeo and linked in the application. Regardless of duration, please include full videos. Please note the clip you would prefer the jury view by including time marks in the documentation list. Due to time constraints, the selections committee may only view up to 5 minutes of each video. Please select visual support material mindfully, as committee members have limited time to consider each proposal. 
The Bill Reid Gallery is committed to providing equitable access to everyone. Should you require any accommodations in the application process, please contact bcarter@billreidgallery.ca 
Timeline: Submission Deadline: February 13, 2023 
Email submissions to: bcarter@billreidgallery.ca 
Attn: Bill Reid – Spring 2023 
Artists will receive notification about their submission status by February 23, 2023. The show will be opening at the end of April 2023 at the Bill Reid Gallery in Vancouver, BC and will continue until January 2024. 
Thank you for your interest! 
Beth Carter, Curator 
Aliya Boubard, Assistant Curator 
For more information: billreidgallery.ca
Support The Gallery
Programs like these have been made available thanks to our generous community of supporters.
Donate