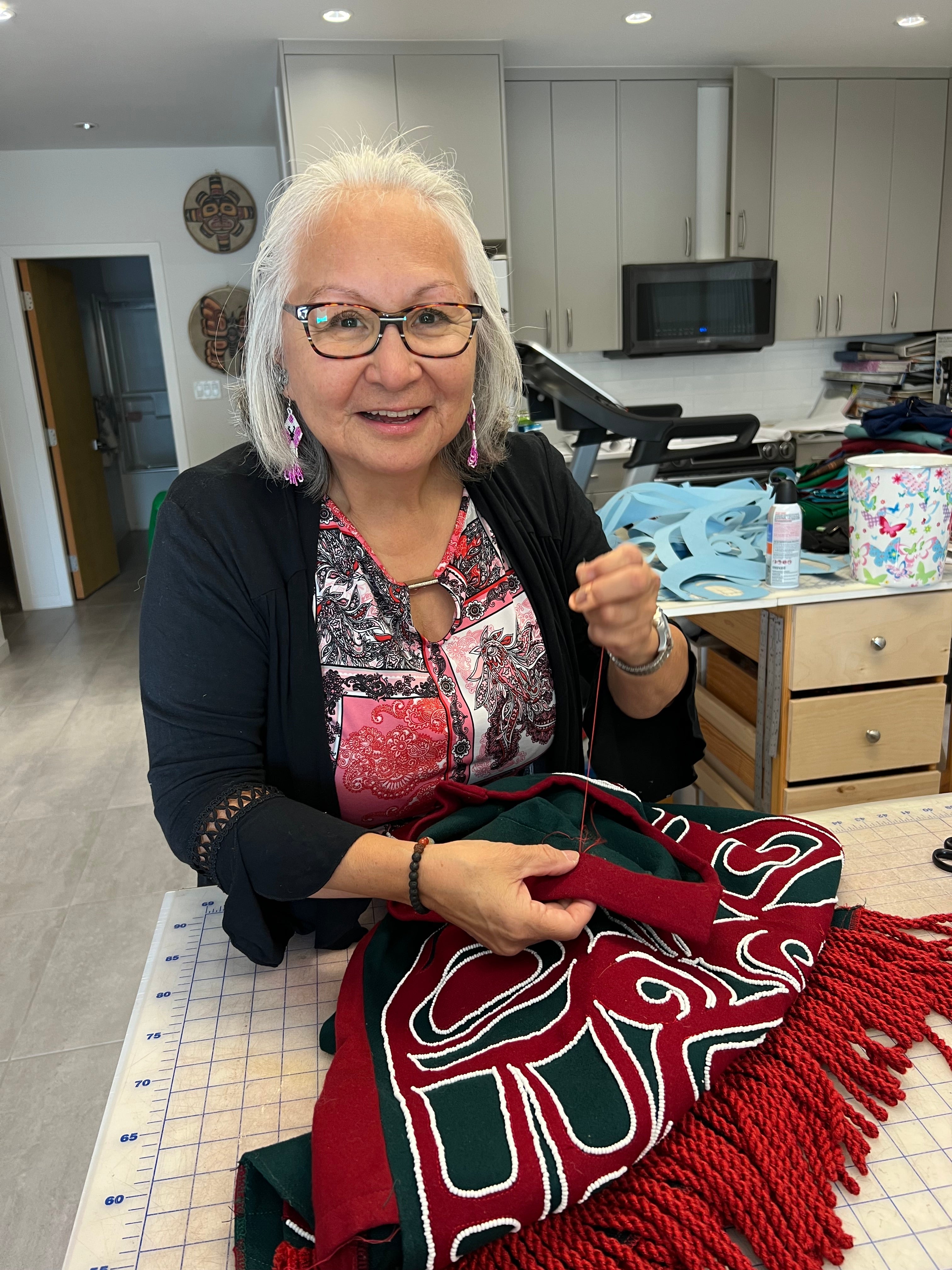 Apron Regalia Making Workshop
March 11, and 12
10 am to 4 pm for two days
In this two-day workshop, learn to make a traditional apron with Kwakwaka'wakw artist Maxine Matilpi. This workshop is intended for those who are somewhat familiar with sewing and would like to learn more about traditional regalia making. Dance aprons are traditionally adorned with buttons, beads, and shells, and usually depict a family crest design. They're worn by dancers throughout various ceremonies, particularly the potlatch.  
All materials and instruction will be provided for participants. Participants must be able to commit to both days of the workshop. Please note that participants will start their aprons during this workshop but might not complete the project during the two days.  
In addition to the workshop on March 11th at 10 am, Maxine will provide an hour-long artist talk open to the public, discussing the importance and history of regalia relating to the Kwakwaka'wakw peoples, and talk about her own experiences as a regalia maker. This talk will be in-person only and included with admission to the Gallery.
This workshop is open for Indigenous peoples only and limited to 10 participants. Lunch will be provided both days of workshop.  
Workshop fees are $125 per person. If you are interested but unable to cover the cost of workshop, please send an email to intern@billreidgallery.ca.  
Please email intern@billreidgallery.ca to register for the workshop and register on Eventbrite for the artist talk.
Maxine Matilpi is a Kwakwaka'wakw artist from Alert Bay. She is a lifelong regalia and button blanket maker, language speaker, and cultural leader. She has several pieces featured in Keeping the Song Alive, which she worked with John Livingston to create. Her work has been shown in museums and galleries across North America, and is housed in collections of the Seattle Art Museum, the McCord Museum and the Museum of Fine Arts in Boston.
Generously supported by:
Support The Gallery
Programs like these have been made available thanks to our generous community of supporters.
Donate