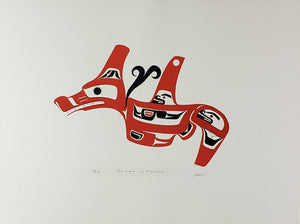 Wolf Changing into Killerwhale, Limited Edition Print
Art Thompson (Nuu-chah-nulth - Ditidaht & Cowichan)
Regular price
CAD
$290.00
Art Thompson was born in 1948 in the village of Whyac on the southern end of Nitinat Lake. He belonged to the Ditidaht Band of the Nuu-chah-nulth people.
Well-versed in many of the artistic styles of the coast, Art developed his own innovative and distinctive interpretation of Nuu-chah-nulth design. Art created a number of large dance screens, which, in turn became serigraphs, while other print images were drawn from drum heads.
Art Thompson's work can be found in many public collections including the Museum of Civilization in Hull, Quebec, the Royal British Columbia Museum in Victoria, The Canadian High Commission in Singapore, and Stanford University in the United States.
Art Thompson passed away in March of 2003.
1976
Serigraph, Limited Edition of 200
Unframed
24"w x 18"h