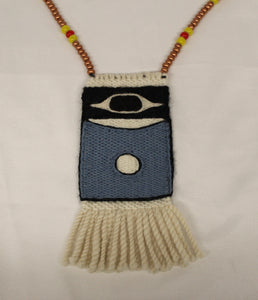 Steel Blue and Black Flicker, Chilkat Weaving Pendant
William White, Tsimshian
Regular price
CAD
$700.00
William White is an accomplished and acclaimed weaver from the Tsimshian Nation. Willy's career has spanned 40 years starting in 1982 part time and by the 90's he was weaving full time, then soon after started to pass on his knowledge and teachings. Having done several exhibitions around North America, he has become to be know as one the few leading weavers on the Northwest Coast. He recently visited the Nuxalk nation in Bella Coola to teach what he said is the last place on the Westcoast to teach weaving. He is very happy about this personal and professional accomplishment, as are we.
This beautiful hand woven Chilkat pendant is hand made with 100% wool. Many Chilkat blankets weavers use twined cedar to create pieces and some, like Willy, create pieces with out the cedar twine woven in. He favors this type of weaving. "…This particular design is called a "flicker" as in the flicker feathers that are used in the amhalaayt, or yakyuuwai. This design element is used throughout Chilkat blanket weaving in different places and directions. They may represent several different things within the formline design." - Artist Statement.
Willy White, Tsimshian

1960 – Present
It measures 2 7/8"w by 6 1/4"h and the necklace is accentuated with glass beads. The necklace cording is cotton and is adjustable.
Wool Weaving (Natural/Steel Blue/Black), Glass Beads and Cotton Cording.