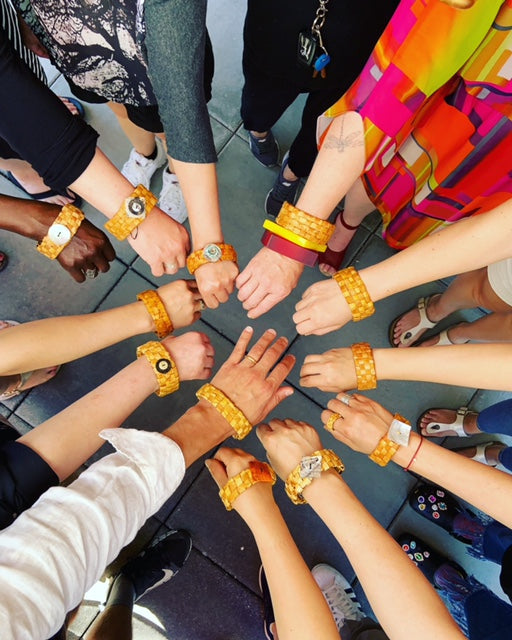 Make Your own Cedar Bracelet - Sold Out
Well-Made Object Workshop - Sold Out 
Make Your Own Cedar Bracelet
Saturday, September 17, 2022
1 pm - 4 pm
Join us for an in-person workshop at the Bill Reid Gallery and make your own cedar woven bracelet! Musqueam artist Rita Kompst will guide participants to weave their bracelets and talk about the importance and history of cedar.  
Cedar bark is a traditional material used by First Nations all along the Northwest Coast for baskets, traditional regalia, ropes, and hats. Harvesting cedar bark is done with care and often includes ceremony. Collected in the spring, only part of the bark is harvested so that the tree can continue to grow.  
Materials will be provided on the day of the workshop.  
$40 for non-members* | $35 for members*
Limited to 20 local participants
in the surrounding Vancouver area.
"My name is Rita Point Kompst. I am from the traditional territory of Musqueam located on unceded lands in Vancouver. Both my parents, my late father Joe Becker and my late mother Evelyn Norris, were from Musqueam. My late father was a well-known wood carver and artist. When I was a teenager, my sisters and I often sanded, stained and polished his carvings.  
My artist journey began when I returned home several years ago. I experienced deep personal losses in my immediate family. I thought long and hard about my teachings and began to experiment with various Indigenous craft forms. Weaving is the form I prefer and have become extremely passionate about. I teach cedar weaving workshops at various locations around the city. It has become so important to share the knowledge with relatives, friends and at workshops! Cedar weaving is one of the best things we can do to heal! We weave cedar roses, bracelets, hats, grad caps, headbands, cedar hearts, reindeer, stars and baskets. I currently weave private orders and facilitate cedar weaving and natural dyeing workshops.  
I look forward to sharing my knowledge with you!" 
You can pay for this workshop online or call Visitor Services at 604 682 3455 ext. 221 to process your payment by phone or pay-in-person. Please contact Aliya Boubard (Assistant Curator) if you have any questions: aboubard@billreidgallery.ca
Supported by:
Support The Gallery
Programs like these have been made available thanks to our generous community of supporters.
Donate