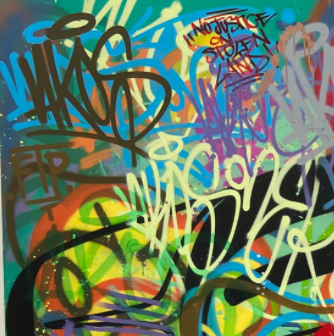 Live Painting with Corey Bulpitt
Sunday, June 12, 2022 - 2 pm – 4 pm
Corey Bulpitt, Untitled, 2022, spray paint on canvas
Collection of the Artist
"Graffiti is a way to reclaim some of our spaces, especially urban spaces. My work intertwines classic formline design with contemporary messages. We are defenders of this land, whether it is concrete or old-growth forests. We remain connected to the natural world around us, even when we are being killed off."
—Corey Bulpitt
Watch Corey complete a major new work for display in the upcoming exhibition True to Place:

stímetstexw tel xéltel

—curated by artist and muralist Xémontalót Carrielynn Victor (Stó:lō). 
Haida artist Corey Bulpitt uses graffiti to reassert Indigenous culture in urban places. His skill at combining traditional formline design with freehand spray paint is amazing and not to be missed!
Free with Gallery admission or membership and for Indigenous community members.
Image: Reclaimed Spaces (diptych) (detail), 2020 by Corey Bulpitt (Haida)
Birch panel, latex, spray paint
Image courtesy of Fazakas Gallery
Support The Gallery
Programs like these have been made available thanks to our generous community of supporters.
Donate