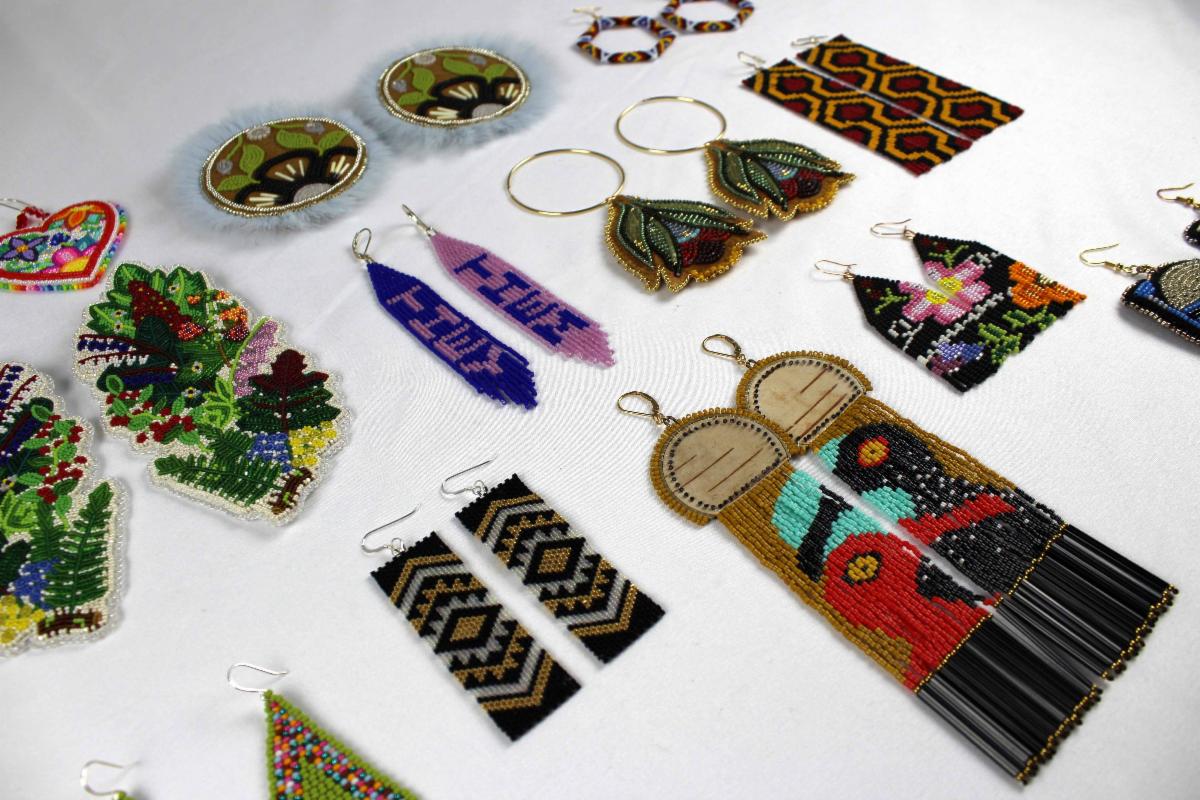 Beaders Market
Free with Gallery Admission or Membership and for Indigenous community members.
Saturday, August 27, 2022
12 pm – 4 pm
Join us for an afternoon filled with beautiful beadwork, refreshments, and bannock! Presented in conjunction with the Beaded Nostalgia exhibition, the Bill Reid Gallery of Northwest Coast Art will be hosting a Beaders Market on Saturday, August 27th. 
Be sure to bring your wallets—there will be lots of amazing beadwork for sale! Explore the innovative beadwork featured in the exhibition and get to know some local beadwork artists. Please contact Aliya Boubard at aboubard@billreidgallery.ca if you have any questions. 
Participating Artists:
Atheana Picha is a Salish artist from the Kwantlen First Nation. She was given the traditional name Nashmenetanaht. Atheana was born in Vancouver and currently works out of Richmond, BC. She is an interdisciplinary artist, working mostly in 2-dimensional work. Currently, she is completing two apprenticeships, learning Salish wool weaving from Musqueam weaver Debra Sparrow, and learning wood carving and silver engraving from Squamish artist and educator Aaron Nelson-Moody. Her work is grounded in Salish design through studying the old pieces, observing nature, and learning from her teachers. Her work can be found on her website, www.atheanapicha.work 
Breanna Deis is an Ulkatcho artist based in Vancouver. Beadwork has been a key factor to her reconnecting journey and helped her cope during the pandemic. She started beading in the beginning of 2020 as a hobby and since it has become a life-changing passion as a full time artist. Breanna also connects with the online Indigenous community through beading tutorials to help other reconnecting natives who don't have elders/community to learn this cultural art. She gives back by donating a portion of profit from selling beadwork back into BIPOC charities and mutual aid across turtle island. Examples of her work can be found on her website, www.breannadeis.com 
Cecilia Joe is a Musqueam artist who has recently started beading. She is proud to be 6-years clean from addiction, and is proud to be a beader. She states: "I bead to be closer to our people and always happy when I bead as it's my new happy place and like everyone else my peace!"  
Ferin Willms is a mixed race Niitsitapi (Blackfoot) beadwork artist and a member of the Kainai (Blood) Nation. She belongs to the Crow Spreading His Wings Family. She is mostly self-taught and specialize in fringe-style earrings. Most of her work is inspired by nature, particularly plant and bird kin, and by pop culture. Her work can be found on her Instagram page: @iikakiimat.beading 
Janelle Silverwolf is a Nisga'a woman from Laxgalts'ap, BC. She is an educator, beader, artist, facilitator, writer, and Auntie advocate for Indigenous voices and success.  Her journey with beadwork started with her mother at age 11, learning how to bead on leather.  Through beadwork and spiritual growth, she found her creativity and realized her art is part of her medicine.  Weaving intention, love and good thoughts with each bead.  Each pattern and color palette carry meaning and love inexpressible by other means.  She uses her writing and beadwork to tell stories of knowledges passed down, witnessed and earned. The creation of artistic pieces is her way of sharing her medicine with community. 
Katrina Husband is a mixed Gitxsan and settler artist based in Haida Gwaii, BC. Growing up in Haida Gwaii has greatly influenced her art, cultural identity, and heightened her appreciation of the natural world. She learned to bead and create textile art at a very young age, as she was taught by her auntie Sugiit Lukxs (Yolanda Skelton). Katrina was supported throughout her life by family to pursue her art practices and appreciates their encouragement. She is grateful for the many traditional and contemporary teachings she has received along the way from her community, family, and beyond. More of her beadwork can be found on her Instagram page: @katrina.husband.creative.chaos 
Kiana Mio is a Huuayaht artist from xʷməθkʷəy̓əm and sc̓əwaθən məsteyəxʷ territory. Her mother is from nuučaan̓uł territory near Bamfield, BC, and her father descends from Italy. She was taught to bead from Barbara Joe from sc̓əwaθən məsteyəxʷ at a young age, in an effort to reconnect to her spirit after some challenging life experiences. She weaves both Coast Salish teachings and Nuučaan̓uł stories and patterns together in her work.  
Lisa Walker is a mixed Indigenous (x̄á'isla nation/british) beadwork artist. Beading is medicine for her, and a way to learn her language by naming each piece in x̄á'islak̓ala. She hopes by wearing her work you feel the energy that goes into it. Find her online to see more, @lisa.beading www.lisabeading.com 
Modeste (Monday) Zankpe is a Secwepemc and West African artist who created hand-woven Afro-Indigenous beaded earrings. She started Monday May Jewelry as a hobby in 2021 to stay on top of her mental health. Each pair of earrings is hand-beaded and takes anywhere from 1.5 hours to 15 hours to create. Inspiration for the colour combinations comes from various places. She is forever inspired by both of her Indigenous cultures – the Ewe and Secwepemc people.  
Shelley Ferguson is from the Qayqayt First Nation (New Westminster Indian Band). As a result of residential school, Shelley and her family lost their cultural art practices. Shelley has long had an interest in learning more about the Indigenous art forms that surrounded her and she began to teach herself beading. She now enjoys contemporary designs and is an emerging seller of her artwork. Shelley's playfulness and sense of humour translate into colourful and original works of wearable art.  Beautifully adorned necklaces, hair clips, and bracelets are among Shelley's completed works. 
Linda McCullough is a Métis-Cree artist born in Northern Saskatchewan. As a child she attended residential school and became ashamed of her Indigenous ancestry.  Although she watched her mom create beautiful beaded mukluks and moccasins, she didn't take interest in beading until later in her adult life. Beading is medicine to her now. With her daughter Roanne, they've created their own beadwork company called Lucia-Rose Métis/Cree Artisans in honour of Linda's mother and Kokum.
Support The Gallery
Programs like these have been made available thanks to our generous community of supporters.
Donate