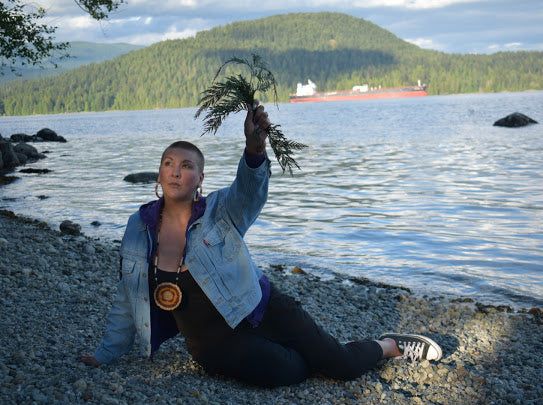 Basket Weaving with Found Objects - Online Workshop - SOLD OUT
This workshop is Sold Out.
Saturday, January 22, 2022
1 pm - 4 pm
Join us in this online workshop facilitated by Roxanne Charles and weave your own mini basket with found and recycled objects. As we 
see the effects of climate change and a rise in the levels of waste we produce, it is more important now than ever to recycle and reuse all that we can. Caring for our environment is a core belief 
of many Indigenous peoples. In this workshop, participants will learn the foundational techniques for mini basket weaving and the importance of caring for our natural world.
Roxanne Charles of Semiahmoo First Nation is 
a cultural historian employing means of visual representation, oral history and ceremony. Methods which have been utilized by Semiahma People for thousands of years. Her work explores and documents a variety of issues that reflect her daily life such as spirituality, identity urbanization, trauma, and various forms of systemic violence.
All workshop materials will be provided by the Bill Reid Gallery. 
$25 for non-members* | $20 for members*
Shipping within BC will be $10 extra.
Limited to 20 local participants
This online workshop is available to BC residents only.
We cannot guarantee prompt delivery due to unpredictable shipping delays with Canada Post—the kits may not arrive on time prior to the online workshop. We apologize for any inconvenience. 
Pick-up at the Gallery is strongly encouraged. 
You can pay for this workshop online or call Visitor Services at 604 682 3455 ext. 221 to process your payment by phone or pay-in-person and pick up your workshop kit at the Gallery reception desk prior to the online workshop. Please contact Aliya Boubard (Assistant Curator) if you have any questions: aboubard@billreidgallery.ca
Supported by:
Support The Gallery
Programs like these have been made available thanks to our generous community of supporters.
Donate